The Official Newsletter of Carl S. Swisher Library
Annual Founder's Day Pilgrimage & Celebration
Dr. Mary McLeod Bethune
Bethune-Cookman University's founder, Mary McLeod Bethune, is one of America's most inspirational daughters. Educator. National civil rights pioneer and activist. Champion of African American women's rights and advancement. Advisor to Presidents of the United States. The first in her family not to be born into slavery, she became one of the most influential women of her generation.
Dr. Bethune famously started the Daytona Literary and Industrial Training Institute for Negro Girls on October 3, 1904 with $1.50, vision, an entrepreneurial mindset, resilience and faith in God. She created "pencils" from charred wood, ink from elderberries, and mattresses from moss-stuffed corn sacks. Her first students were five little girls and her five-year-old son, Albert Jr. In less than two years, the school grew to 250 students. Recognizing the health disparities and lack of medical treatment available to African Americans in Daytona Beach, she also founded the Mary McLeod Hospital and Training School for Nurses, which at the time was the only school of its kind that served African American women on the east coast.
Read more about our Founder.
University History
On October 3, 1904, an exceptional young Black woman, Mary McLeod Bethune, opened the Daytona Literary and Industrial Training School for Negro Girls—what would become Bethune-Cookman University—with $1.50, faith in God and five little girls, along with Dr. Bethune's son, Albert.
Dr. Bethune went on to become a national and international figure with a long list of notable accomplishments, including counseling US presidents, playing a role in the founding of the United Nations and creating an influential African American women's organization. She also helped found the United Negro College Fund, of which Bethune-Cookman was a charter member. The University was a crowning achievement in a storied career.
Through Dr. Bethune's lifetime, the school underwent several stages of growth and development. In 1923 the school merged with Cookman Institute of Jacksonville, Florida, which had been founded in 1872. The Cookman Institute was the first institution of higher education of Blacks in the State of Florida. It was through the merger that the school gained the prestigious Methodist affiliation.
Read more about BCU's history.
Dr. Bethune's Historic Home
Have you toured Dr. Bethune's home? If not, you can do so now by watching the video below.
Read more about "The Retreat".
BCU Oral History Project
The Oral History Project encompasses five distinct projects: Centennial Oral History Project, Family History Portfolios, Bethune Legacy Project, Historic Second Avenue, Veterans History Project.
Learn more about the Oral History Project.
Homecoming 2021 Events
Saturday, October 2Homecoming Eve BashNot only is it the Countdown for Homecoming, but it is also the Countdown for our Founder's Day. We are gearing up for the celebration of 118 years of Wildcat Pride. This is the kickoff for our amazing upcoming events that are planned throughout the Week. Join us and our dance orgs on Saturday, October 2 at 10pm on the Quad.Sunday, October 3The Drip GalaLights…Cameras and Drip! It is that time to pull out your best gowns and suits to show us how dapper and elegant you are. Strut down the red carpet, at The Drip Gala event, at the Hard Rock Hotel on Sunday, October 3 at 2pm. Tickets are being sold at the B-CU Performing Arts Center Box Office.Monday, October 4Silent Headphone PartySilence…Headphones On, DJ Keep playing that song. An event where you can sing your heart out and no one can hear you. Each color (Red, Blue & Green) represents a different DJ, so take your pick. If you want to feel a vibe, meet us under the CCE Carport on Monday, October 4 at 8pm. Tuesday, October 5All White AffairIt is about to be a white out! Show up and show out at the liveliest event of the semester. We will be joined by a celebrity artist, so you don't want to miss this event at the Ocean Center on Tuesday, October 5 at 8pm. Ticket sales on Ticketmaster!Wednesday, October 6Goombay: Cultural ExtravaganzaCalling all Cultures! We are bringing back those Island Vibes to the Quad once again, this will be a cultural extravaganza like you have never seen before. Come out on the Quad for great vibes and delicious food at this year's Goombay on Wednesday, October 6 at 7pm.Thursday, October 7Greek Step ShowThis day is for the Greeks to show the audience who really runs the yard. Join us on the Quad on Thursday, October 7 at 8pm. Friday, October 8Cookout/Pep RallyIt is a Family Affair! A day where we reminiscence with old classmates about the memories over the years and enjoy some good food and music. Come out to the Quad in your B-CU apparel and celebrate a day filled with fun on Friday, October 8 starting first with our annual Family Cookout at 12pm on the Quad. Later on, at the Ocean Center at 6pm show us that Wildcat Pride at our traditional Pep Rally to cheer on the football team and enjoy the amazing song selections by the Baddest Band in the Land, The Marching Wildcats. Tickets are available for purchase at the B-CU Performing Arts Center Box Office soon or at the Ocean Center at the time of the event and also online here!Saturday, October 9Homecoming ParadeBring your family and friends, and see you at this year's Homecoming Parade on Saturday, October 9 at 9am. Student organizations, alumni, bands, friends, and our University President are excited to welcome you back to campus and to the Daytona Beach community. Starting at North Nova Road, the Parade will roll down Dr. Mary McLeod Bethune Blvd. to the B-CU campus. TailgateThere is no tailgate like a Wildcat tailgate. We are bringing back a tradition that will never die. Bring your family and friends to experience Wildcat Country at its best. Enjoy some great food, lots of laughs and music at the pregame before kickoff at the Daytona Stadium on Saturday, October 9 starting at 12 noon.Football Game Get ready to cheer on our Wildcat Squad as they take on the Delta Devils of Mississippi Valley State in what promises to be an amazing match. There will be no shortage of exciting plays and hard hitting. And, of course, you'll be pumped by the incredible sounds of the famous Marching Wildcats as they put on a show that cannot be beat. Kickoff is at 4pm at Daytona Stadium. Tickets can be purchased at Ticketmaster or by clicking here.Sunday, October 10Gospel ExplosionThis event will be a night to worship and give thanks to our Lord and Savior, with performances from very special celebrity guests. Come in your Sunday Best, gather with friends, family, and fellow Wildcats as we close out this year's 2021 Homecoming at the Heyn Memorial Chapel at 6pm. Get there early! Tickets are available at the B-CU Performing Arts Center Box Office.
Yes, it's a thing!
Family-Friendly Staycation and Holistay Options
by Jennifer Dayton
Sep 27, 2021 | Filed in COVID-19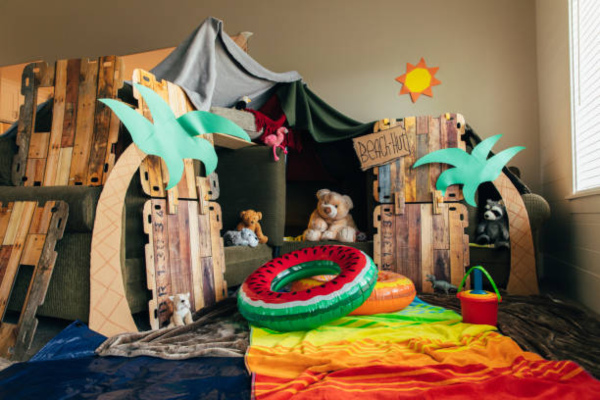 Although some of us resumed traveling this summer, for others the thought of boarding a crowded airplane amid a pandemic remains daunting. We're all missing the things that made travel so appealing: relaxation, learning new things, sharing new experiences with loved ones. Navigating the new leisure landscape is made a little easier with the idea of the staycation. Also known as the holistay, this allows us to have the illusion of a holiday without really leaving our comfort perimeter. The following sites can help you explore your options with ease. And, just as you would if leaving your home area, check your nearby destination's Covid safety requirements before going.
FALL STAYCATIONS
Daycation works much the same way but with venues available globally, it enables you to experience resorts other than the one where you may be staying. If you happen to be in hunkering down in Aruba and wish for a change of scene, book a Daycation at the Eagle Aruba Casino and Resort for $20 a day plus a beach towel deposit of $25. Not only does this pass allow for use of the pool and beach, but you may also use the casino and receive a free $10 match play coupon.
ResortPass is a booking platform that allows you to arrange day passes for all sorts of venues, such as spas, gyms, and resort cabanas. Many locations are participating, from The Ritz Carlton in Bal Harbour, Miami (day passes beginning at $100 per adult for the basic package) to the Royal Palms Resort in Phoenix Arizona ($40 per day which allows access to the outdoor pool, jacuzzi, and poolside food and drink service). ResortPass also has an app for Apple users to book on your smartphone.
Looking for a unique experience and the chance to learn and grow without having to travel far or at all? Airbnb Experience is a good place to start. Wishing you could travel to Tuscany for a chance to take a course in pasta making? Starting at $34 per person, Italian grandmothers will tutor you online and make those dreams come true. Or maybe some armchair travel is what you need for a refresh? For only $12 you could be exploring Jaipur, the royal city of India from the comfort of your favorite chair. The site also offers in-person experiences. Simply type in your location and choose the date to see what might appeal.
Still unsure of where to start? Trip Savvy could be your answer. The site has put together the best Staycations for all 50 states. With recommendations on where to eat and what not to miss—including a nice mix of fun and history—you won't have any FOMO. Consider a short journey to a neighboring state. Who knows what riches you may find across a nearby border?
Visit our new libguide (Research Guide) – Take a Study Break   – Bored? Have a few minutes between classes? Want to take your mind off your troubles? Need a break? This guide provides a number of relaxing activities to assist you in finding your nirvana, such as watching and learning more about Dr. Bethune, watching a beach cam, playing a game, and solving puzzles and or coloring pages.
Take A Break Libguide
https://www.cisa.gov/cybersecurity-awareness-month-resources
Cybersecurity Awareness Month 2021
Week 1 Tip Sheets: Be Cyber Smart.
Week 2 Tip Sheets: Phight the Phish!
Week 3 Tip Sheets: Explore. Experience. Share. – Cybersecurity Career Awareness Week
Week 4 Tip Sheets: Cybersecurity First
Terms M-P
Magazine: "A publication, issued on a regular basis, containing popular articles, written and illustrated in a less technical manner than the articles found in a journal."Microform: "A reduced sized photographic reproduction of printed information on reel to reel film (microfilm) or film cards (microfiche) or opaque pages that can be read with a microform reader/printer."Mouse: "A device that allows the user to move and click the cursor on a computer screen for different functions."Multimedia: "Any information resource that presents information using more than one media (print, picture, audio, or video)."Newspaper: "A publication containing information about varied topics that are pertinent to general information, a geographic area, or a specific subject matter (i.e. business, culture, education). Often published daily."Online Public Access Catalog (OPAC): "A computerized database that can be searched in various ways—such as by keyword, author, title, subject, or call number—to find out what resources a library owns. OPAC's will supply listings of the title, call number, author, location, and description of any items matching one's search. Also referred to as "library catalog" or "online catalog." You can search BCU's OPAC (or BCU Library's Catalog) here.PDF: "A file format developed by Adobe Acrobat® that allows files to be transmitted from one computer to another while retaining their original appearance both on-screen and when printed. An acronym for Portable Document Format."Peer reviewed journal: "Peer review is a process by which editors have experts in a field review books or articles submitted for publication by the  experts' peers. Peer review helps to ensure the quality of an information source by publishing only works of proven validity, methodology, and quality. Peer-reviewed journals are also called refereed or scholarly journals."Periodical: "An information source published in multiple parts at regular intervals (daily, weekly, monthly, biannually). Journals, magazines, and newspapers are all periodicals." Primary source: "An original record of events, such as a diary, a newspaper article, a public record, or scientific documentation."Print: "The written symbols of a language as portrayed on paper. Information sources may be either print or electronic."Proxy server: "An Internet server that acts as a "go-between" for a computer on a local network (secure system) and the open Web. Often checks to determine "right of access" to the secure environment and speeds up requests by caching frequently accessed Web pages. Can also act as a firewall."
Race Records, the latest release from country singer Miko Marks, is on our shortlist of the best albums and EPs out on Oct. 1. Amanda Lopez/Courtesy of the artist
Philly rapper Meek Mill is back with an all-new studio album this week called Expensive Pain, an album he vowed, on Twitter, would be his best yet. We open this week's show with the cut, "Blue Notes 2" and talk about the ways Meek Mills' career and life have evolved since his previous full-length, 2018's Championships.
We've also got a breathtaking new album from Brandi Carlile, new ones from Illuminati Hotties, the country singer Miko Marks, the Toronto rapper Shad and more. Critic and contributor Gavin Godfrey joins NPR's Lyndsey McKenna, Radio Milwaukee's Tarik Moody and NPR Music's Ann Powers, along with host Robin Hilton, as they share their picks for the best new albums out on Oct. 1.
Click here to listen to playlist.
Featured Albums:
Meek Mill — Expensive Pain
Featured Song: "Blue Notes 2"Brandi Carlile — In These Silent Days
Featured Song: "Broken Horses"Ben Marc — Breathe Suite
Featured Song: "Breathe Suite A"Tirzah — Colourgrade
Featured Song: "Hive Mind"Illuminati Hotties — Let Me Do One More
Featured Song: "Knead"Shad — Tao
Featured Song; "Black Averageness"Miko Marks — Race Records
Featured Song: "Hard Times"
Other notable releases for Oct. 1: Dar Williams — I'll Meet You Here; Hovvdy — True Love; Lady Gaga & Tony Bennett — Love For Sale; Strand of Oaks — In Heaven.
"The great joy of James Baldwin's prose is its rhythm, so he's the perfect subject for a podcast episode. This 2015 episode of the BBC's long-running biography series Great Lives explores his life and work, and provides a great introduction to his unforgettable voice. If you love biography, the Great Lives archive is a treasure chest." – Helen Lewis, The Atlantic staff writer
Click here to access podcast.
Come and check out these titles!
Like this:
Like Loading…
Related